I am standing in Berlin. The sky is a grey monotony. And while tiny waves gently wash around the little sandy beaches, tree skeletons surround the hidden bays on the Havel river. A semi-lucid vapor is covering the branchage of leafless treetops, already early in the afternoon. It is December in Berlin. The entire spectrum of bright summer colors is overlaid by muddy shades. Only larger groups of pine trees gleam in a greenish-black out of a giant cemetery of seemingly inanimate bodies of beeches, oaks, birches and maples. The cry of a heron in a far distance, but where has all the colorful and manifold life gone?
T. S. Eliot (1888-1965) wrote ("Journey of the Magi"):
"A cold coming we had of it, just the worst time of the year  For a journey, and such a long journey: the ways deep and the weather sharp, The very dead of winter…"
Shakespeare (1564-1616) on Sonnet  97:
"…What freezings have I felt, what dark days seen! What old December's bareness everywhere!…"
Seeming emptyness of a Forest-waterside landscape in winter, copyrights Stefan F. Wirth, Berlin December 2018. Please like my video also on Youtube, in case you really like it.
Bareness, emptyness, death, attributes being combined with winter since mankind exists. From the evolutionary point of view a serious problem that early humans  had to master. The seemingly emptyness was for them a very real lack of sources. They needed to prepare the winter time, food needed to be stored and protecting clothes to be stiched. There was no well organized international trade of goods, no fresh apples and pears in winter, no cheap winter jackets made in China. Winter meant to fear for the basic survival.
Today we live a different life, being independent from the seasons. Life today means for us to fear for the basic survival of our environment. What are the effects of a global climatic change? What the effects of our environmental pollution? What changes are independent from all that and just represent natural processess as they happened again and again since about 470 millions of years, when the first plants appeared on shore?
Most life does not disappear in winter, it just hibernates – alive!
The Berlin nature refuges around the forest Grunewald-terrain are interesting due to their complex mosaics of different habitats close to each other. Forest Grunewald in Berlin and the sandy beaches and bays along the Havel river offer space for lizards, an interstitial insect fauna, dry grassland visitors such as butterflies, wetland animals like frogs and newts, aquatic inhabitants like river lampreys, numerous bird species and inhabitants of wood in all kinds of decomposition stages such as bark beetles, longhorn beetles or hermit beetles.
Migration
Some animal inhabitants of the Grunewald/ Havel-area in summer migrate during the winter season, but most species stay. They hibernate and are even now in December still there.
Birds
Many birds show a strict migration behavior to avoid northern winters, others migrate in greater numbers, while some specimens stay, and some migrate only over smaller distances. Which of those migration behaviors is exactly performed by which bird species might depend on climatic conditions and is object of scientific research. NABU for example regularly starts projects, to which the general public can contribute with own observations. One of them takes place in early January and is named "Stunde der Wintervögel" ("the moment of winter birds").
Common cranes Grus grus and greylag geese Anser anser normally migrate over bigger distances and numerous bigger routes towards southern winter refuges. Especially cranes are in summer for examples inhabitants of the Havelland Luch, thus prefer areas more western of Berlin. A trend was observed by ornithologists that more and more often, obviously corresponding with a global warming, troops of crane specimens stay instead of migrating southward.
Migration behavior of common cranes and greylag geese in Linum, autumn 2018, copyrights Stefan F. Wirth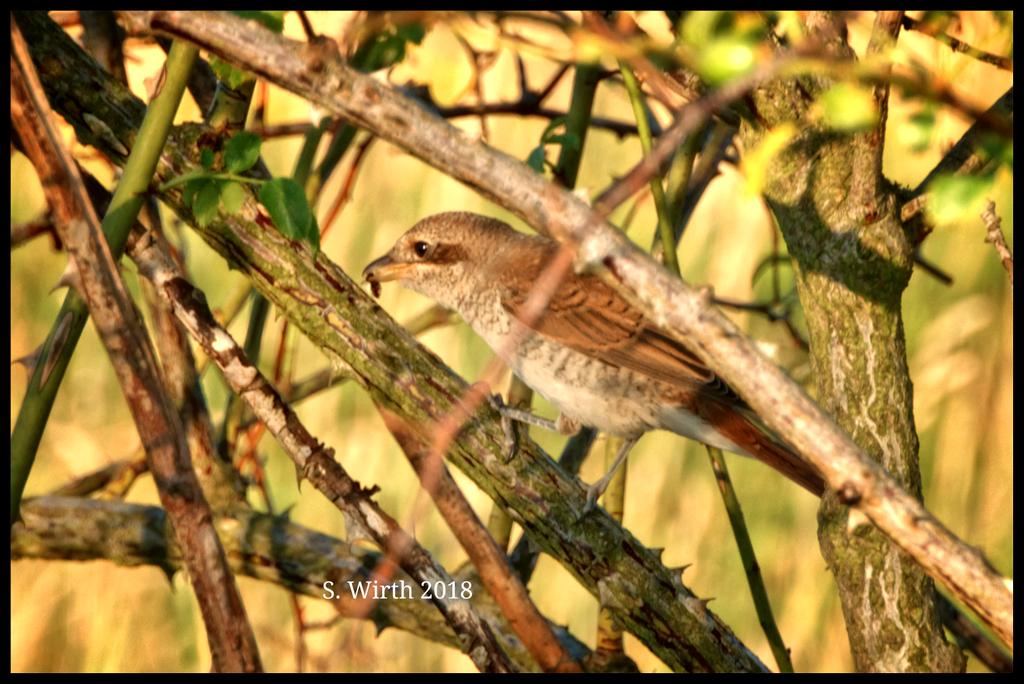 Female of the red-backed shrike in Berlin (Köppchensee). The bird is a typical long-distance migrating animal. Copyrights Stefan F. Wirth, 2018
Butterflies
The red admiral butterfly Vanessa atalanta is known as a migrating insect. The "normal" case is that migration from Southern Europe towards Central Europe is performed in spring. There, a summer generation develops and in autumn either tries to migrate back southward or to hibernate as adult butterfly, where it hatched, for example in Germany. But specimens mostly do not survive their tries to hibernate during our cold winters. This makes the admiral to a rare example of our summer-fauna, which over here partly indeed dies out before winter begins. The migration routes of populations throughout Europe is still topic of research. The migration behaviors seem to change corresponding to a global warming.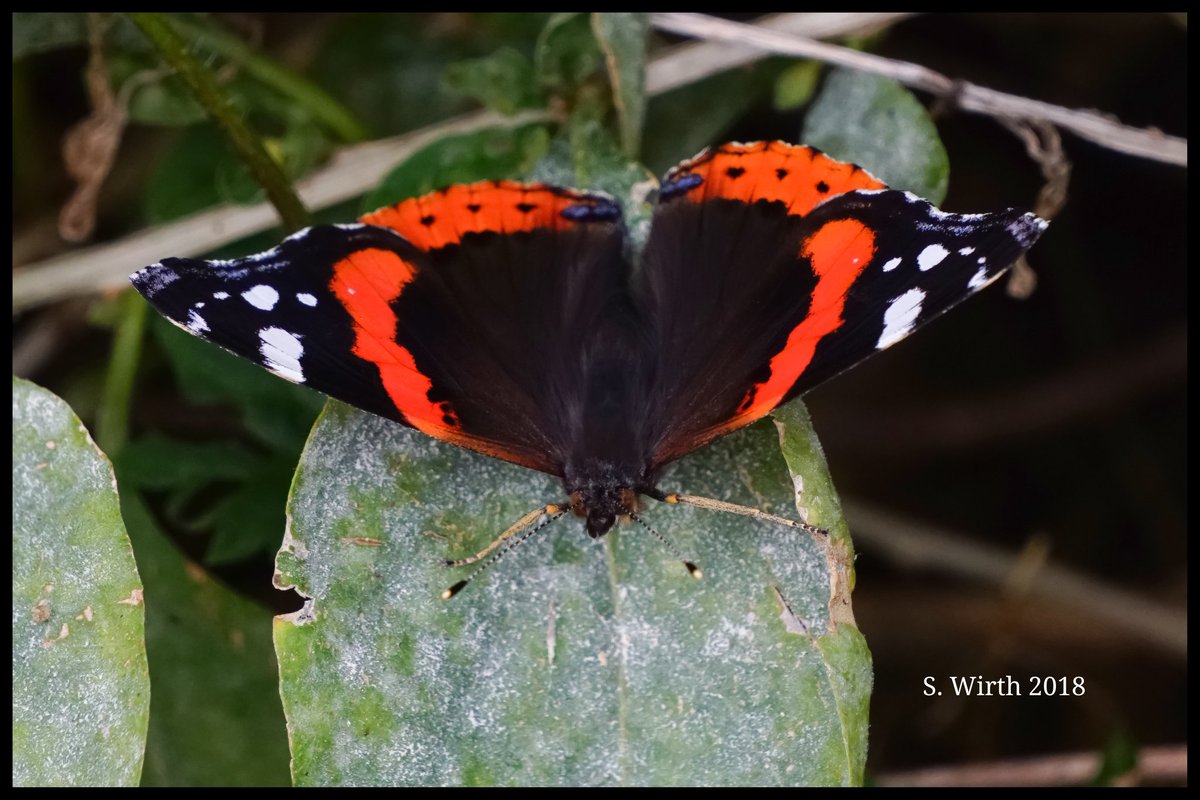 Admiral butterfly in Berlin, copyrights Stefan F. Wirth, 2018
River lamprey
Also the river lamprey Lampetra fluviatilis obligatory needs migrations over bigger distances. But these migrations do not correspond primarily with our cold seasons, but instead with the complexity of its life cycle. Larvae, which differ morphologically from adults, hatch in our freshwaters and develop as filter feeders within about three years, in which they  hibernate inside their aquatic freshwater habitats. They then migrate after a morphological metamorphosis towards the Sea. There they live as ectoparasites on fishes until they reach sexual maturity and then return into freshwater-rivers to reproduce and finally die. It is still subject of research, whether they return for their reproduction to the areas of their original larval development.
Hibernation
Sand lizard
The sand lizard Lacerta agilis  hibernates in hideaways, which are able to hold a temperature around 5°C. There they fall into winter numbness due to their unability to regulate their body temperature independently from the environment. Juveniles and adult genders start their hibernations  at different times.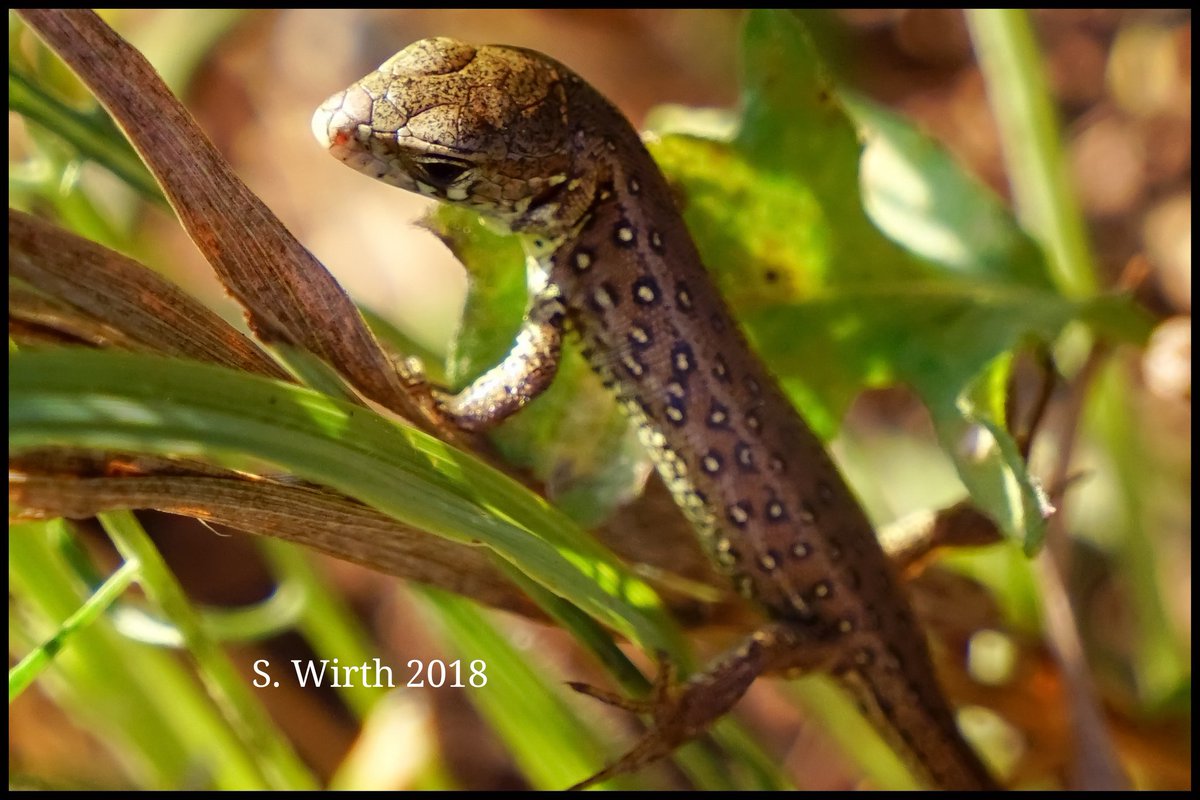 Sand lizard juvenile, found in Berlin Grunewald/ Teufelsberg, copyrights Stefan F. Wirth
Frogs
Toads and frogs hibernate after finishing their metamorphosis, juvenile and mature specimens spent a diapause as a total numbness such as in lizards. Amphibians and lizards are poikilotherm, thus their body temperature corresponds to their environment (some monitor lizards Varanus were found to have physiological abilities for a limited self regulation of their temperature, which is an exception within the taxon big Squamata).
Marsh frog Pelophylax ridibundus, pool frog Pelophylax lessonae and edible frog Pelophylax kl. esculentus survive the cold season in hideaways, which maintain acceptable environmental temperatures. While pool and edible frog hibernate on land, the marsh frog spends its diapause in aquatic habitats. Skin respiration then plays an even more imortant role, which is why these frogs require a high availability of oxygene. The edible frog is even from the evolutionary point of interest, as it represents a hybride between two closely related species, namely marsh and pool frog. It is in many of its populations non reproductive with other hybrides and needs one of the parental species to reproduce. But interestingly triploid specimens of the edible frog sometimes develop in populations and bear the complete genomic information of one of the parental species. These edible frogs can reproduce with other hybrides They can be found throughout Berlin. Such specimens are difficult to be determined morphologically, as they resemble in their outer appearance either to the marsh or the pool frog.
Sand wasps
Insects hibernate in different developmental instars, if holometabolic, egg, larva, pupa and adults are options, if hemimetabilic eggs, nymphs or adults perform the winter diapause. Some insects can even hibernate in all of their developmental instars.
The quite common red-banded sand wasp Ammophila sabulosa for example is part of the insect interstitial fauna and does not practise brood care, but maternal care. Females built up several single nests up to 20 centimeters into the soil, each of them containing only one cell for the deposition of always one egg. As food supply they hunt caterpillars preferrably of Noctuidae, stun them with a sting and carry them to their nests, which will be closed with soil particles afterwards. The last brood hibernates as pupa or larva inside the nest.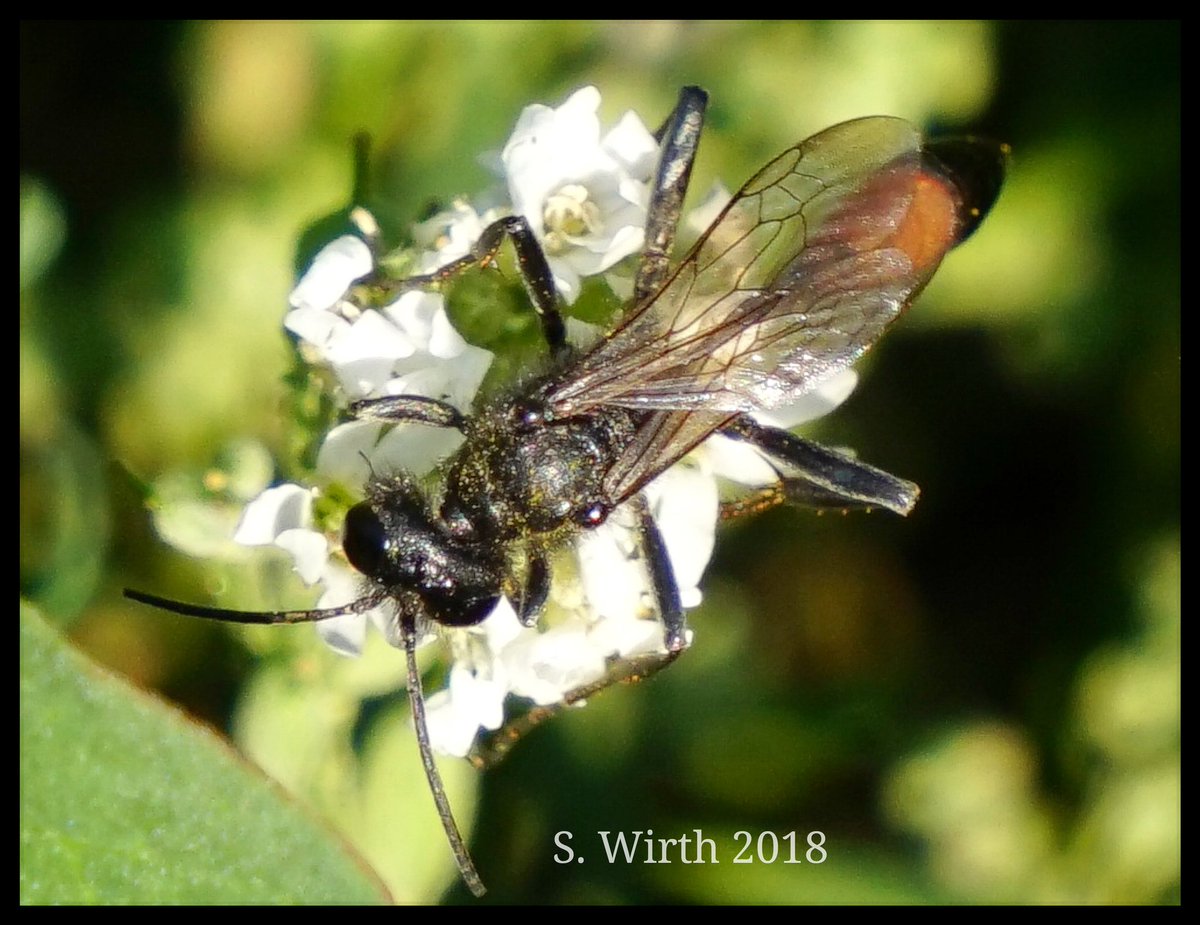 Sand wasp Ammophila sabulosa in Berlin, copyrights Stefan F. Wirth, 2018
Grasshoppers
The grasshopper Sphingonotus caerulans is a thermophilic species, which is a typical inhabitant of sandy areas in Southern Europe. It also appears in Berlin. Its eggs are deposited into deeper soil layers and hibernate there.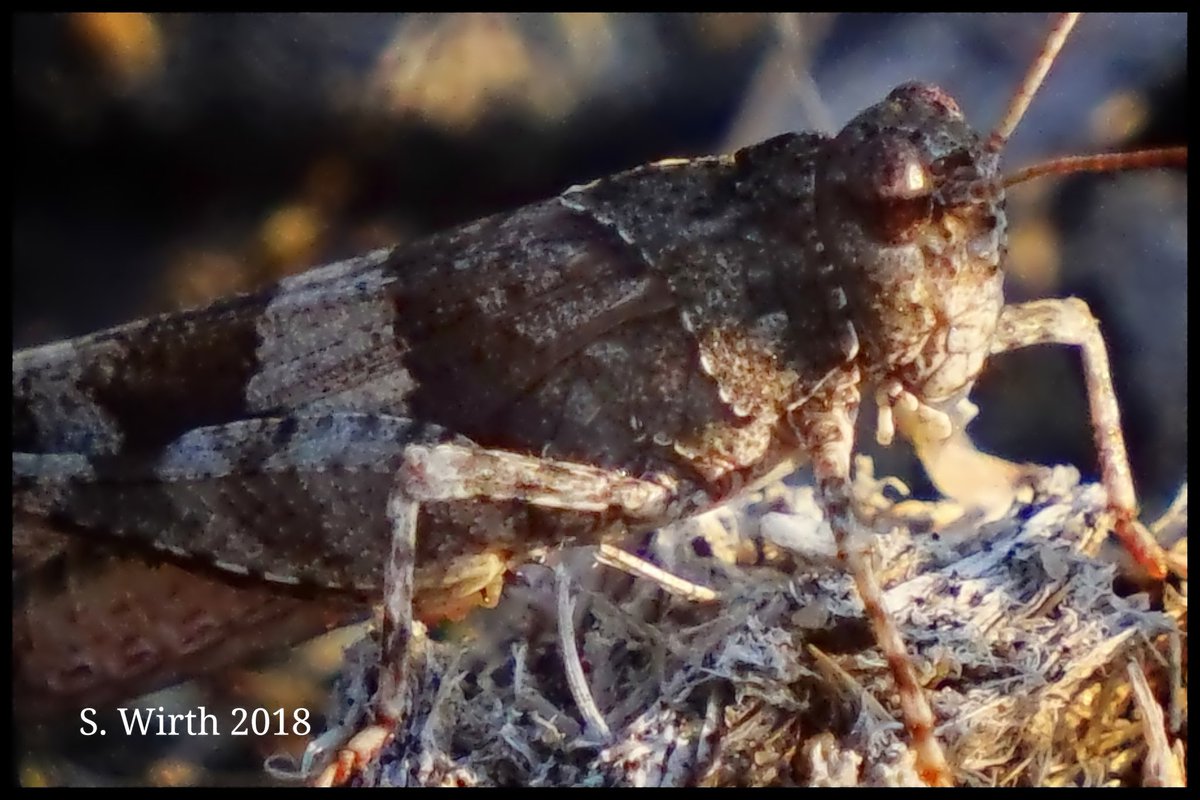 Grasshopper Sphingonotus caerulans, male, found in Berlin (Köppchensee). Copyrights Stefan F. Wirth, 2018
terrestrial Isopods
The common woodlouse Oniscus asellus for example hibernates as nymph or mature adult in hideaways inside deeper soil layers, dead wood or compost. These terrestrial curustaceans become inactive, when colder temperatures appear. Specimens can live over several years (usually about two years).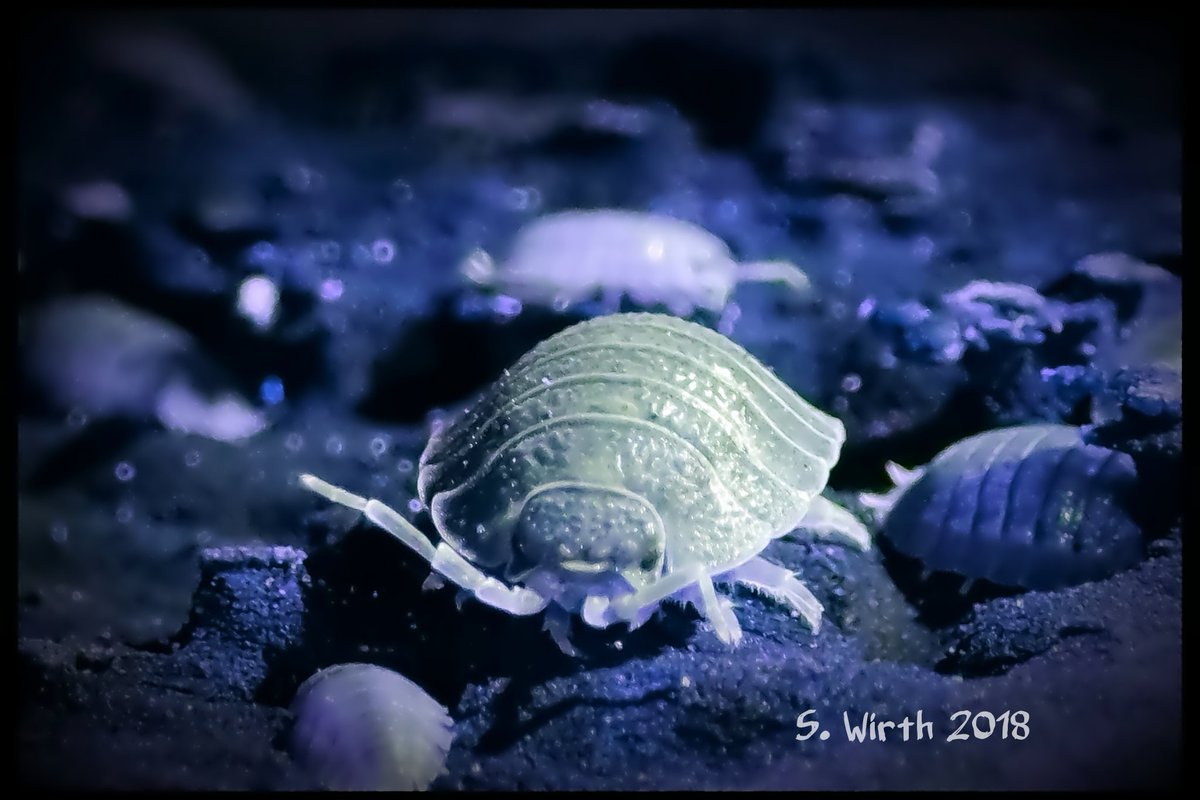 An example for a woodlouse, in this case a mediterranean species of genus Porcellio, copyrights Stefan F. Wirth, 2018
Hibernating animal communities
Communities of different animal species often hibernate altogether. I focus here on inhabitants of micro habitats. Especially long living insect nests can bear greater numbers of cohabitants. But also deadwood or compost bear many different animal species side by side.
Ant nests
Nests of the red wood ant Formica rufa represent complex animal communities, as it is typical for ant nests generally. Besides ants and their brood noumerous nematode and mite species inhabit nest mounts of F. rufa. Additionally different larvae of other insect taxa can be members of the ant community, I even discovered the larvae of the green rose chafer sometimes inside red wood ant nests in the area of the Berlin forest Grunewald. Also several species of pseudoscorpions are known to science to be adapted for a survival in nests of F. rufa in Europe: commonly found are for example the species Allochernes wideri and Pselaphochernes scorpioides. Pseudoscorpion species of genus Allochernes are known to practice a dispersal strategy named phoresy. They use bigger and better motile insects as carriers and that way are transferred to new habitats. Besides ants, their suitable phoretic carriers seem to be dipterans. Also different mite and nematode taxa inside nests of the wood ant perform phoresy. A mite example is the species Histiostoma myrmicarum (Acariformes, Histiostomatidae), which seems to be carried by ants and eventually additionally also by other arthropodes.
The larva of the green rose chafer inside a nest of Formica rufa, copyrights Stefan F. Wirth, 2011
Mite Histiostoma myrmicarum (Astigmata) collected from its hibernation habitat in the soil underneath an old oak in Berlin forest Grunewald, copyrights Stefan F. Wirth, 2018
Formica rufa itself hibernates inside its nest in absence of eggs, larvae or pupae. Only the queen and workers remain during the cold season. Not much is known about other nest inhabitants. More research is needed.
Typical ant cohabitants (with Formica rufa) do not necessarily need to hibernate inside their ant nests. I collected deutonymphs of the mite Histiostoma myrmicarum in winter 2017/18 from soil (some centimeters deep) underneath an old oak in the absence of ants and their nest. The well scleotized deutonymph (phoretic dispersal juvenile stage) might represent the hibernation stage.
The advantage for organisms, living in ant nests, is a higher and constant temperature due to the ant worker's nest-care-activities. Additionally the defensive behaviors of ants offer protection for those organisms being adapted (based on evolution) to survive inside ant nests.
Due to suitable temperatures, many organisms inside nests of the red wood ant might stay even active in winter. Interactions between ant nest-cohabitants can be very complex. An example is the Alcon large blue butterfly Phengaris alcon, being adapted to other ant species: Myrmica rudinodis and M. rubra. The caterpillar resembles an ant worker due to the morphology of its cuticle and the production of ant-similar pheromones. Ant workers fail for this imitation, carry the caterpillar into their nests and feed it. The butterfly's larva hibernates inside the ant nest as larva, molts into pupa in the subsequent spring season and finally leaves the nest as adult butterfly. Still inside the ant nest, the caterpillar can become a victim of the parasitic wasp Ichneumon eumerus. Its female invades the ant nest, only after recognizing that caterpillars of the blue butterfly are indeed inside. It then confuses the antworkers due to the release of different chemicals and then attaches its eggs to the caterpillar. The wasp's larva hibernates there and molts into its pupa inside the host's pupa. The adult wasp afterwards leaves the ant nest.
Phoretic mites of the taxon Astigmata inside a nest of Myrmica rudinodis, found on island Usedom, copyrights Stefan F. Wirth
Bark beetle galleries
Numerous mite and nematode species live inside the galleries of bark beetles. Such a complex fauna is known for many bark beetle species. Additionally the larvae of different other insects can be cohabitants. Depending on the species, they can perform all kinds of life-strategies: being predators of adult bark beetles or their offspring or of other gallery cohabitants, they can also be microorganism feeders and prefer the bark beetle galleries due to its ideal warmth-isolation or due to the specific micro-climate that is created there by the activities of all different inhabitant activities. Besides animals, also fungi and bacteria contribute to that climate.
Bark beetle Hylurgops ligniperda and phoretic mites, copyrights Stefan F. Wirth, 2016
Wood associated nematode Diplogaster sp. found in the tree fungus Laetiporus sulphureus in Berlin, copyrights Stefan F. Wirth, 2016
Mite deutonymphs of the Histiostomatidae mites inside the galleries of the bark beetle Tomicus destruens in Italy, Vesuvio National Forest, copyrights Stefan F. Wirth, 2016
Bark beetle Ips typographus with some of its gallery-cohabitants, such as phoretic mites, found in SW-Germany (Saarland), copyrights Stefan F. Wirth, 2015
Furthermore the composition of species in a bark beetle gallery changes with an increasing age of a gallery. Secondary infections are often performed by other wood parasiting beetles, after the bark beetle brood finished its development and left the gallery. A secondary parasitism can for example be performed by longhorned beetles.
The bark beetle Dendroctonus micans for example infests several conifer species: Picea, Abies, Larix and Pinus. This bark beetle can hibernate in all its instars: eggs, larvae or adults. Adults can in spring sometimes be found in specific hibernation-chambers. In a research project with russian collegues, I isolated beetles of that species in the early spring season in Siberia (Russia) out of such a chamber on Pinus silvestris. Adjacent to attached substrate particles, I found nymphal stages of the phoretic mite Bonomoia opuniae, a species of the Histiostomatidae (Astigmata), which was even new to science at that time. I described this species, which I so far only know from those siberian samples. It is still unknown, whether it also appears in Central Europe.
The nymphal stages (protonymphs and tritonymphs) of that mite species might represent the hibernating instars. They were not fallen into a numbness after the collection and even remained active in a refrigerator, where my samples were stored subsequently for a while. I doubt that the mite in winter can pass through different generations as it would happen in a warmer climate, because the found mite nymphs appeared -also active- still rather weak in their cold environment. Thus I assume these nymphs to hibernate throughout the winter season. But there is still much research missing about the ecology/biology of bark inhabiting mites.
Adult beetles of Dendroctonus micans with deutonymphs of Bonomoia sibirica, Tyumen/ Siberia, copyrights Stefan F. Wirth, 2017
Berlin, December 2018. Copyrights Stefan F. Wirth